An interesting journey leads this young beef producer back to the land he loves
– By TROY SMITH –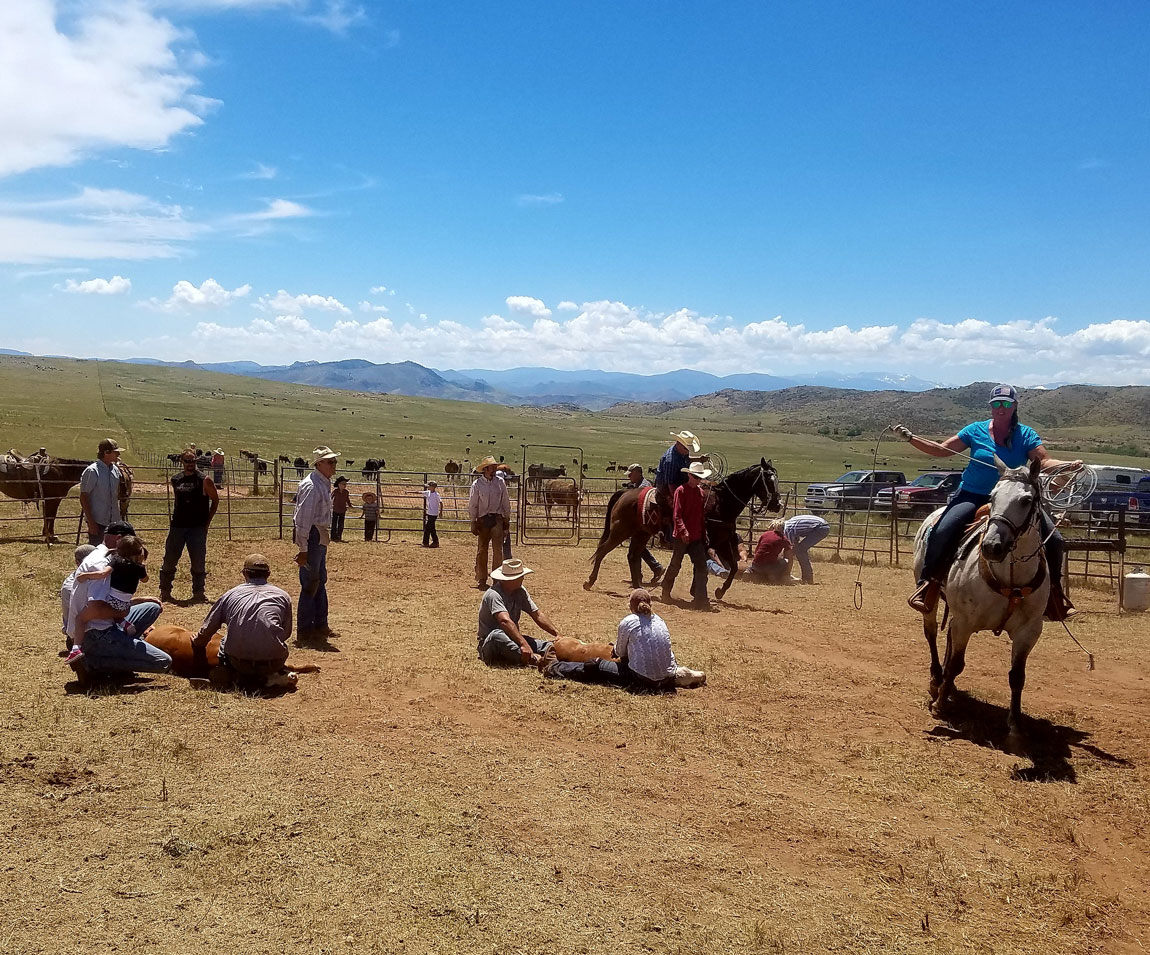 There's a busy stretch of road running northward, from Fort Collins to Laramie. That 65-mile section of U.S. Highway 287 carries some heavy truck traffic through northern Colorado and into Wyoming. Actually, the route has been heavily traveled since 1848 or so. That portion of the highway overlaps the old Overland Trail, and was the course many emigrants followed when journeying to Oregon or California. It was the trail used by stagecoaches and freighters driving ox- and mule-drawn wagons. It became the primary road used by folk that settled the area and hoped to stay.
One that did stay was Robert O. Roberts, who established a hotel and café, about 21 miles north of Fort Collins, in Livermore, Colorado. Situated where a lesser trail branched off from the Laramie road, Roberts called his inn "The Forks". About a year later, in 1875, Roberts also filed a homestead claim. He would eventually sell his hospitality business to concentrate on the building of Roberts Ranch.
The Forks remains a local Livermore landmark, although it has changed hands many times. Roberts Ranch was never sold. Often called one of Colorado's "legacy ranches," the property is now held by a trust, with its more than 16,000 acres remaining intact. That's rare along the Highway 287 corridor where, starting decades ago, many working ranches were broken into small pieces and sold to city folk wanting acreages on which to build houses in the country.
Roberts Ranch won't be subdivided, though, because of conservation easements, which protect the ranch from development by limiting its use to agricultural production, in perpetuity.  Consequently, Roberts Ranch has been, is and will be home to a cattle operation. Resident manager Zach Thode is charged with keeping the operation on firm footing, financially.
From Woodstock to livestock
Holding a degree in engineering, Thode is an out-of-the-ordinary, first-generation rancher. If there were farmers or stockmen in his family tree, Thode never heard about it from his parents. And by the way, Mom and Dad were flower children.
"Yep, they were genuine, Woodstock-variety hippies," affirms Thode, explaining how his parents moved to the Livermore area and bought a small piece of land, back when some of the large ranches were being subdivided.
"We were off the grid. My parents, my brother and I lived in a tent, with no electricity and no running water until I was six years old," Thode recalls.
Still, Thode can claim he was nearly ranch-raised. Early exposure was a result of a rancher's wife being his daycare provider. When Thode was nine years old, a local rancher and horseman took the boy under his wing. First, Richard Borgmann helped train a young horse that Thode had acquired for the price of a whole dollar. Then Borgmann offered the kid a summer job.
"I worked for him for the next 13 years, up until I graduated from college," tells Thode. "He taught me a lot about ranching during that time, and a lot about life."
Thode graduated from Colorado State University, with a degree in agricultural engineering. After college, he found work as a construction laborer and advanced to management, spending six years engaged in the construction of municipal water treatment facilities across Colorado and Wyoming. For another five years, Thode worked for Rubicon Water, a firm that designs large-scale, gravity-fed irrigation water systems for clients all over the U.S.
Along the way, Thode also became a regional representative for BigIron Auctions, a firm that conducts online, as well as onsite, auctions of agricultural, construction and transportation equipment. Experience as a BigIron rep reinforced something his early mentor, Richard Borgmann, had demonstrated.
"I became a rep mainly so I could learn about sales and marketing as it is done at the farm and ranch level," says Thode. "And I learned that it's all about relationships built on trust and respect."
By 2012, Thode had married his wife, Sherryl, and started a family. Approached that year about managing the Roberts Ranch, the couple saw it as an opportunity to get back to ranching – something Thode had always thought he would eventually do – and raise their kids in that environment. He also recognized it as a challenge worth accepting. They did, starting in the spring of 2013.
"The ranch had been under limited management for close to 35 years and there had been very few improvements in that time," says Thode.
Since then, several miles of water pipeline have been installed. More and better-placed stock watering sites, plus some cross-fencing of pastures has allowed for improved grazing management. Erosion of stream banks has been addressed by fencing riparian areas so cattle access can be controlled.
The ranch has access to water for irrigated hay production, but its flood irrigation systems were in disrepair. Under Thode's management, three center-pivot systems have been installed, along with a big gun sprinkler. Since renegotiating water rights, Thode anticipates adding three more pivots to provide irrigated pasture for the future.
Building the herd back up
While Roberts Ranch had long been considered to be a 600-cow outfit, drought-driven destocking left cow numbers at 200 at the time Thode arrived. Moisture conditions have since improved but the ranch's owners preferred to rebuild numbers through retention of home-raised heifers, rather than purchase replacements. During the ongoing period of herd-building, Thode has kept the ranch stocked to capacity by bringing in cows that he and Sherryl own personally.
"We currently sell about 40 percent of the calf crop in January, as five-weight calves. We keep a few steers to run over as yearlings and we keep a lot of heifers," shares Thode, explaining how a relatively large number of replacement heifer candidates are managed under an extensive, low-input development program and estrus synchronized for artificial insemination. After early pregnancy detection, heifers found open are sold as feeders.
"Heifers are our most liquid asset," Thode states.
Historically, Roberts Ranch ran straight Hereford cows and, as alluded to previously, they were subject to "limited management". That's definitely not all bad, in Thode's opinion, because the cows became pretty well adapted to the environment. Because they don't eat much and they get pregnant every year, Thode wants to keep some of their "hard Hereford" genetics in the herd. However, he is using Angus and composite bulls to capitalize on the added productivity and longevity of crossbred cows.
The mature cows run on range throughout the year, receiving little supplementation other than protein during the winter. Calving during May and June helps keep feed and labor costs low.
"We try to keep cattle spread out in pastures. I believe that helps reduce sickness. We monitor the heifers so we can help with calving when needed, but the cows are on their own. We check them once per week," says Thode.
"We don't tag calves," he adds, noting how humans handling newborns can interfere with bonding between calves and their dams, and even spread infections. "Under our management system, I don't see any real financial advantage to tagging calves. I know the cost of labor involved is a financial disadvantage."
Thode is all about cost-benefit comparison. He's more than a little leery of debt and advocates frugality in lifestyle as well as business, saying "keeping up with the Joneses" can get a rancher in trouble. Having the fastest horse or newest pickup seldom makes much difference to the ranch's bottom line.
Thode's involvement in the online auction business has been used to good advantage, not only to save money but also make it. He buys used equipment for use on the ranch, and most of it needs at least a little work.
"I probably spend close to a quarter of my time fixing up equipment that I bought cheap. Often, I use it for a while and then sell it for a profit. Then, I do it again," relates Thode. "But you do have to make the effort to learn what stuff is worth."
Roberts Ranch label
Thode fears many producers devote too little effort to savvy sourcing of inputs, or to marketing cattle. Producers whose programs are built on carefully chosen genetics and reams of performance data should use it when marketing their cattle, rather than simply hauling calves to the sale barn and hoping for the best. He admits that Roberts Ranch cattle don't have a reputation for exceptional feed conversion rates or the highest carcass merit, but they do have sought after qualities.
"They're going to live," grins Thode. "They're healthy and they qualify for an 'all natural' program. We sell them at the auction barn, but I work at recruiting buyers to be there on sale day. If I can get at least two guys interested, it creates more competition. Just an extra bid or two can be enough to cover the costs of transportation and commission."
Thode also hopes to use the ranch's historical significance to develop and market certified organic lines of grass-fed and grain-fed beef bearing a Roberts Ranch label. He's also working with the current owners of The Forks about the opportunity to leverage their shared history, and put Roberts Ranch beef on the restaurant's menu.
Always seeking to establish mutually beneficial relationships, Thode advises young producers to establish a wide network of "neighbors" with which they can trade goods and services. A prime example is Thode's practice of swapping hunting and fishing privileges for fence building and repair.
"I try to avoid paying full retail for anything," states Thode. "But you have to know how to negotiate, and that's becoming a lost art."
Thode laments the fact that old-fashioned horse-trading sometimes has a negative connotation. In his opinion, in shouldn't be that way. A good bargain, resulting in value received by both parties, should be based on honesty, integrity and trust.
"We all need to teach that to our kids," offers Thode. "And we need to teach them how to work. We don't do a very good job of that anymore. A good start might be to tell them to shut down their electronic devices, go outside and get dirty doing something."
SaveSaveSaveSave