Sponsored Content
Solving your heavy-duty hydraulic feedlot squeeze chute problem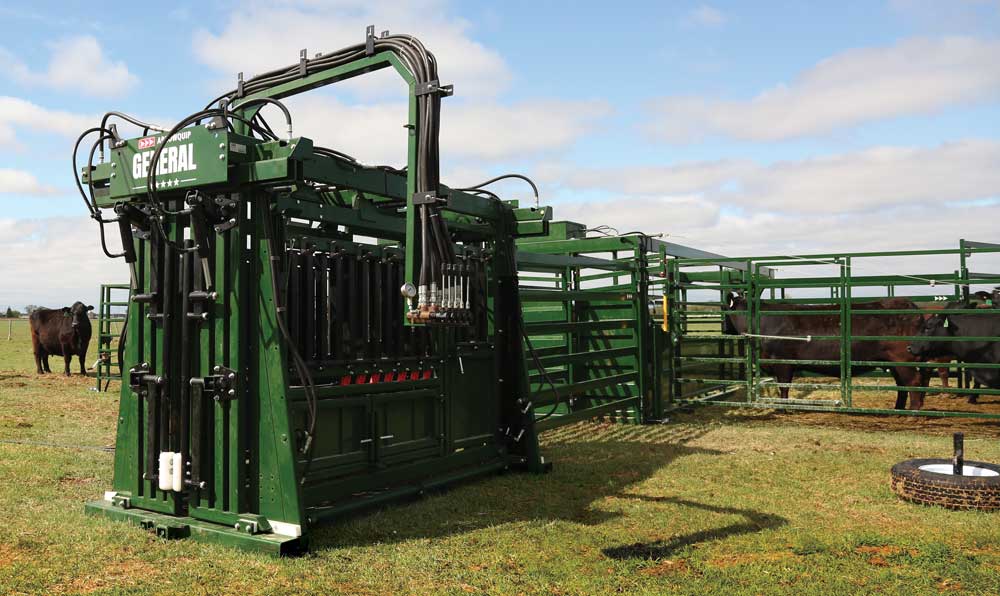 BY DANA CHARBAN
When it comes time to choose a new hydraulic cattle squeeze chute for your operation,the options are endless, which brings to surface two key questions:
What is the best hydraulic squeeze chute?
What hydraulic squeeze chute can actually stand up to high volume operations with little to no downtime?
Unfortunately for producers, many in the cattle industry tends to be behind the game on innovation and product improvements. So the chute you are looking at may be no different or better than the one you are replacing. 
Here are five things to consider when purchasing a new hydraulic squeeze chute that will actually solve the problem that you are currently facing.
Choose a company that will back their product.
Customer service is an important element when you are purchasing any high-ticket item for your operation. It is important to consider the service provided by the company you choose, and ensure they will not leave you high and dry when something goes wrong. You deserve a company that will be ready and willing to answer your questions. They should additionally assist with any issues that arise as you are dealing with them to minimize down time. 
Look for brands that have a continuous improvement mindset to ensure you are getting the best equipment available. Equipment should be designed to meet today's rigorous manufacturing and quality standards, and the customer service to back you up when needed. 
Keep safety at the forefront.
Safety is of the utmost importance when managing livestock, and when using hydraulic equipment it is even more important to keep in mind. Choose a hydraulic squeeze chute that is designed with animal science at the forefront. Ensure cattle are under less stress when contained in the squeeze chute itself, and one that is designed for ease of operator use to minimize handler fatigue when working livestock to lower the likelihood of injury. 
Choose your power pack wisely.
Your hydraulic chute is only as good as the power pack it is paired with. A power pack that is too strong, or too weak, can wreak havoc on the hydraulic components in your chute and can dramatically decrease the efficiency of your operation with more frequent break downs and causing damage to your equipment over time.
Choosing a power pack that is designed specifically to work with the hydraulic squeeze chute you are pairing it with is imperative to ensure that your equipment will provide the power and control required to work your livestock safely by catching and squeezing them with the just the right amount of pressure, and without damaging the hydraulic components.
Think about the cattle squeeze chute you really need. 
Many feedlot quality hydraulic squeeze chutes only offer a V-Squeeze option, which is great for cattle control but can cause issues with the way cattle flow through the handling system. Look for a squeeze chute that opens up to a full parallel option to let your large mamas and bulls enter the chute with confidence, but also provides the control you need with a live floor. Another key feature of the squeeze is independent top and bottom squeeze functions that provide you with the flexibility to change the way you set up the squeeze when cattle enter the chute, depending on the size and temperament of your cattle.
Cattle head control can make or break your efficiency.
Many heavy-duty hydraulic squeeze chutes are available with stationary neck extenders, or head sweeps that tilt the animal's neck to one side or the other. While these are functional options for some operations, they are not always the best choice for injections and minimizing cattle stress while in the squeeze chute.
Look for hydraulic cattle neck extenders that stretch the animal's neck straight out from the chute without secondary bars or cylinders that inhibit injection access, and that sit flat against the head gate when not in use for easier catches.
The newest feedlot quality squeeze chute available to cattle producers is The General by Arrowquip. Offering the best access of any heavy-duty hydraulic and the most standard features of any hydraulic squeeze chute model, The General is unlike any other chute on the market.
The General has a unique, patented 3-Way Squeeze functionality that allows producers to choose from Parallel, V-Squeeze, and A-Squeeze, thanks to the separate controls for the live top and bottom squeeze. In addition, The General has unlimited access with the 8 drop-down side access panels, split bottom gates for semen testing and nursing calves, standard XL palpation gate, and Neck Extenders with top-mounted cylinders for uninhibited injection access to ensure that every inch of the animal is available for producers to complete their cattle management tasks with ease. This feedlot quality hydraulic squeeze chute also features an interlocking frame, first-grade North American steel construction, the strongest curtain-style head and tail gate doors available, and top of the line hydraulic components sourced from Italy. Every component on this chute is designed to stand up to your wildest livestock no matter how many head you are running.
Arrowquip is on a mission to make ranching families safe by providing them with highly durable, smart cattle chute and handling equipment designs that make it easier to manage livestock. Cattle are crazy enough, so they have put cattle chute safety at the forefront of their designs for a better cattle working experience.