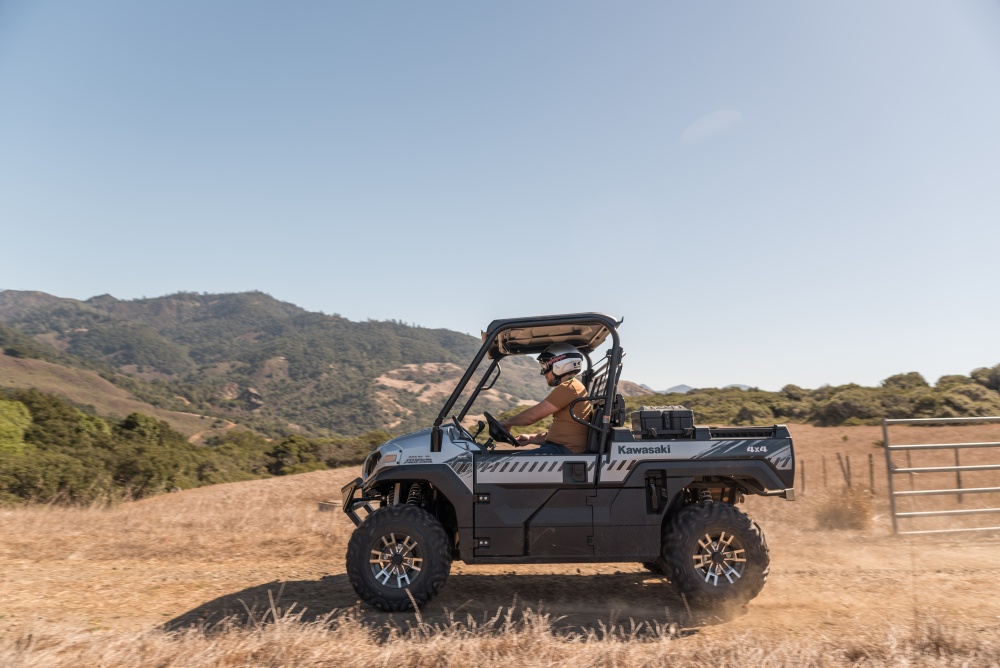 -By Mark O'Byrne.
Howdy readers, Mark here.  This past September 26 I had the awesome experience of visiting coastal California's famous Hearst Ranch, and it was incredible. I could go off on a whole other story about it, but we are here to introduce this good-looking machine.
This was the first time the ranch management has allowed anybody on the private property, which was an honor especially to be doing an event of this magnitude. We toured miles of the outfit, high and low, on a virgin off-road trail, which was quite difficult in places and put the PRO-FXR through its paces, for sure. As you can see, this isn't your typical old workhorse; Kawasaki has kinda taken after the modern truck market with the sporty aggressive look. It might not be everybody's cup of tea but if you got the extra bucks and want to look good while you do your chores this is right up your alley.
It basically drives like a car, only turns it on a dime; it's quiet, and has plenty of power with an 812cc 3-banger. The PRO-FXR has awesome downhill engine braking, and shifting into 4X can be done below 12 mph, which is definitely nice. The high output alternator gives you the juice to run all kinds of accessories that Kawasaki manufactures, from light bars to a Bluetooth sound system.  You might need that winch out on the ranch, too.
Towing capacity is literally a ton off a standard 2-inch hitch receiver, with a 1/2-ton carrying capacity in the steel dump bed.  There is an automatic 1/2-ton bed dumper accessory – just a flick of a switch. They also offer over 40 accessories!  I could go on and on but basically I just had a blast driving this awesome machine all over the Hearst Ranch and witnessing the astounding views.  I would absolutely recommend this Side x Side to anybody who likes to ride in style, work hard and have fun doin' it…out.
SaveSave