Working Horses and Cowboys Shine at the 2021 NRCHA Snaffle Bit Futurity
Story and photos by Jade Currid
Each year, the National Reined Cow Horse Association (NRCHA) Snaffle Bit Futurity showcases the all-around prowess of cow horses and the sheer determination and grit of their riders through challenging herd work, rein work, and fence work events. The 2021 NRCHA Snaffle Bit Futurity presented by Metallic Cat, held October 7th through October 23rd, at the Will Rogers Memorial Center in Fort Worth, Texas, continued the event's legacy of serving as a powerful testament to the cow horse industry as a whole.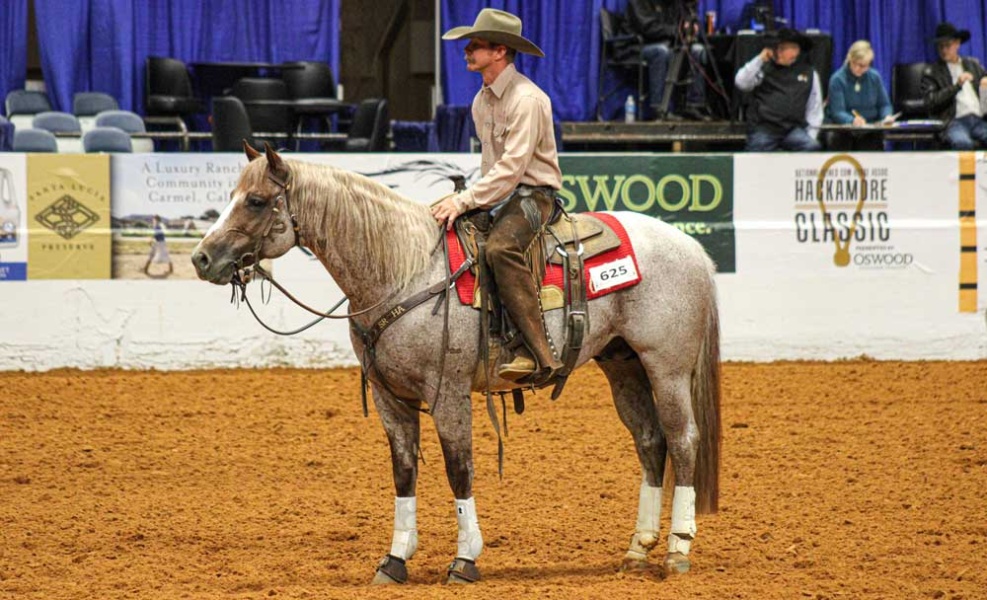 Two of the NRCHA Snaffle Bit Futurity events, in particular, the American Quarter Horse Association (AQHA) Ranching Heritage Challenge and NRCHA Cowboy Invitational Class, held on Saturday, October 16th and Sunday, October 17th, respectively, provided an avenue for ranch-raised horses and everyday working ranch horses, as well as ranchers and working cowboys to shine.
Designed to increase the demand for ranch horses overall, the AQHA Ranching Heritage Challenge emphasizes the versatility, soundness, and willing attitude of American Quarter Horses born on a ranch through a series of ranch horse competitions.
Those who own any horse bred by an AQHA Ranching Heritage Breeder are eligible to compete in one of the event's multiple age and skill level divisions for classes including working ranch horse, ranch riding, team roping, and barrel racing.
The AQHA Heritage Breeder Program pays tribute to its ranching members who preserve time-honored tradition and own remudas of registered American Quarter Horses that are raised to work cattle.
The Spark that got her in the show pen
Jecca Ostrander of Box O Quarter Horses in Gordon, Nebraska, who was the inaugural recipient of the AQHA Ranching Heritage Breeder of the Year Award in 2016, encourages other ranchers to partake in the AQHA Ranching Heritage Breeders program.
"I know there are ranchers out there who have programs that have never stepped into a show ring, but they have these diamonds in the rough standing in their pasture, or maybe they're using them, and they're just a good mount," Ostrander revealed. "I think that the AQHA Ranching Breeders Heritage program highlights those horses in a very positive way."
Ostrander, who has ranched her entire life and bred AQHA mares for several decades, credits the AQHA Ranching Heritage Breeders program and AQHA Ranching Heritage Breeding Challenge with sparking her venture into the show pen.
"Showing is very new to me theoretically," Ostrander explained. "I started about eight years ago with a horse that has been the highest-earning heritage horse for some years, Box O Heavens Blue. We call him "Burn," and now my granddaughters are riding him and doing barrels, of course, and other fun things on him. But, you know when we got on him, we knew he had a little more talent than what we had seen in the past and went ahead and had him trained and that launched our avenue into the NRCHA."
Ostrander holds a special regard for the AQHA Ranching Heritage Challenge and Ranching Heritage Breeders program.
"The program's new enough that we, as breeders, grew with the program," Ostrander revealed. "This has been a program that speaks to my heart. I was raised on a ranch; I married a rancher; my kids have been involved in 4H and rodeo, and we never crossed over into that AQHA venue until the Ranching Heritage program."
Box O Quarter Horses has raised several horses with ranch bloodlines that are strong competitors in the NRCHA.
"Anything that we've shown has been in the branding pen, even Opus Cat Olena," Ostrander stressed. "Those horses are used to doctor and to round up cattle. And, yes, they may shine in a show pen, but they also work for a living here at home."
Ostrander emphasizes the benefits of being involved in the AQHA Ranching Heritage Challenges and Ranching Heritage Breeding Program.
"Fill out the application, and send it in," Ostrander implored. "This is a program that thrives on ranches and those horses that have had years of breeding and thought and effort put into their programs."
According to Ostrander, working ranch horses have an edge when it comes to competition.
"I have a client that has done extremely well in the Ranch Riding because his horses come off of the ranch; they move freely; they have great gaits; they're natural in what they do," Ostrander explained. And, that is just one other aspect of the Ranching Heritage program, is the fact that it can launch you into other avenues of the AQHA and NRCHA.
Ostrander pointed out that four ranches that are in the AQHA Ranching Heritage Breeders program were among those who placed in the top five of the 2021 NRCHA Futurity Non-Pro Bridle class including Box O Quarter Horses, Tongue River Ranch in Paducah, TX, the R.A. Brown Ranch in Throckmorton, TX and Mike Miller Horsemanship and Performance horses in Collinston, UT.
"I thought that it was very commendable that those ranches have horses in the top five of the Non-Pro Bridle," she stated.
Cowboy Class Invitational
Several NRCHA Snaffle Bit Futurity competitors who rode in the AQHA Ranching Heritage Challenge on Saturday, October 16th, also entered the NRCHA Cowboy Class Invitational the next day, Sunday, October 17th.
According to three-time NRCHA World's Greatest Horseman, NRCHA Professional Horseman and co-host of the Cowhorse Full Contact podcast, Russell Dilday of the Dilday Ranch in Wynnewood, OK, the NRCHA Cowboy Class Invitational was formed as a way to reach out to the ranching community.
"I was raised ranching and did not know about the cow horse events until I was in my mid-20s', and I just think that's a shame," Dilday revealed. "And, I even cowboyed on a saddle that was won by my great uncle in 1936 at Salinas and did not even know what it was. "
Dilday said that when you are grinding away on the ranch, you are out there working on your horse by yourself, but that hauling to compete at an event in town exposes you to other horsemanship styles and shines a light on the holes in your own style.
"The competitions are made around maneuvers you would use on the ranch, so it's just getting you to do what you do every day better because when you know you're going to compete, it makes you step it up a little," Dilday expounded.
Dilday encouraged those who are thinking about competing in an event such as the NRCHA Cowboy Class Invitational to go ahead and take the plunge.
"The first time is always the hardest," Dilday said. "Go in there and see how good you do or don't do, and then you'll have something to go home and work on, and, more important than that, you'll meet people who will help you get better fast."
Dilday is of the mindset that competition brings out the best in horses and riders.
"So when you put a little bit of competition into our working horses, it's going to make you get better working horses, whether it's through bloodlines or through the way you ride them, and that's what it's designed for," emphasized Dilday.
Notably, anyone who attends the Cowboy Clinic hosted by the 6666 Ranch in Guthrie, TX, which is a longtime NRCHA supporter and stallion sponsor, as well as an NRCHA Corporate Partner, earns a spot to compete in the NRCHA Cowboy Class Invitational.
"You make friends with all of the people you're sitting around with while you're waiting on the instructors to get to you," Dilday said. "There's a lot of friends made there, and then, it lets you see so many different styles in one day – and so many people's problems, which normally wind up being one of your problems too. "
Notably, Cotton Leathers, who works at the Frisco Creek Ranch Division of the 6666 Ranch, earned the title of 2021 NRCHA Snaffle Bit Futurity Cowboy Class Invitational Champion on the Burnett Ranches, LLC. – owned palomino gelding Amarillo Attraction (Playin Attraction X Seven In Vegas X Seven From Heaven). The victorious horse and rider pair attained scores of 145.5 in the rein work, 147.5 in the cow work, and 148 in the steer stopping for a composite score of 441. They earned two buckles, a pair of romal reins from Traditional Rawhide Braiders, and a check for $1,140, before calling it another day at the office and heading back to the ranch.
Terry Riddle and Bet Hesa Ginnin (Bet Hesa Cat x Ginnin Stoli) owned by Burnett Ranches, LLC., calmly wait on their cow to enter the arena during an AQHA Ranching Heritage Challenge class at the 2021 NRCHA Snaffle Bit Futurity.