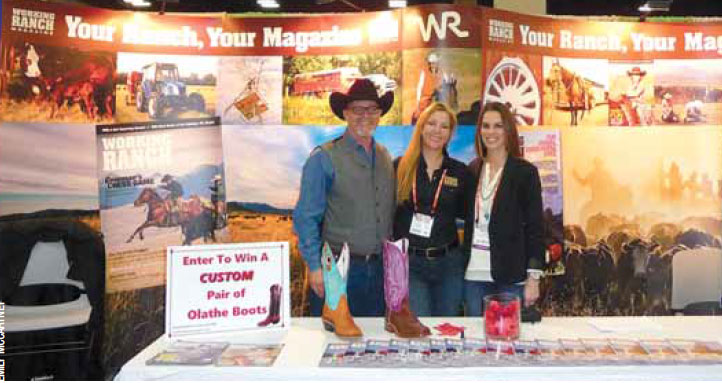 By: Tim O'Byrne
Here's me with Christine (center) and Annie Allen, our ad rep from Montana, at our booth at the NCBA Trade Show in San Antonio, TX in February. Had a great time, and it was so fun to catch up with everybody.
Thanks for stopping by. Oh, the winner of the custom pair of Olathe boots was Julie Dooling who's from Montana, too, which might make it look like the contest was rigged from the start, bein's as Annie knew her and everything.
And if you go to our website to watch the draw on You Tube, you'll notice that the name of the kid we picked off the floor to make the draw didn't correspond to his actual name tag, in fact, it wasn't even close. The name tag said Peggy or Betty or something. This is starting to smell fishy… ANNIE!
Something Special
And now, something special from guest columnist Christine O'Byrne, managing editor of Working Ranch Junior: I am normally manning our WR booth during the NCBA Trade show, and I love seeing everyone who stops by, but I always take some time to get around and see some folks who are busy at their own booth.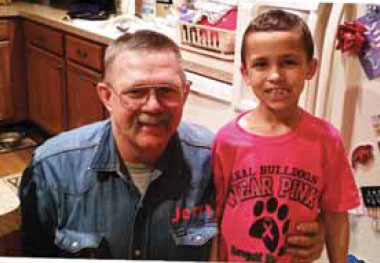 My first stop is usually The Happy Toy Maker because it's like a visit with Santa. This year when I stopped in to see him, we had our usual howdies and talked for a bit before he began to tell me about a particular fan of his toys. A young boy who was fighting cancer would go to The Happy Toy Maker website and watch the videos featuring the rugged ranch toys while he was getting his treatments.
The Happy Toy Maker got word of this, and sent one of his toys to the boy. Well, at this point in the story, I got a big lump in my throat and I felt my eyes start to well up. Then he goes on to tell me about taking a little side trip to stop and see the boy. I choked through that lump in my throat and said "Oh, I bet he was sure excited to see you! You are like a real live Santa!" I gave him a hug, said "Bless you, thank you." and went on my way, grateful for people like The Happy Toy Maker.