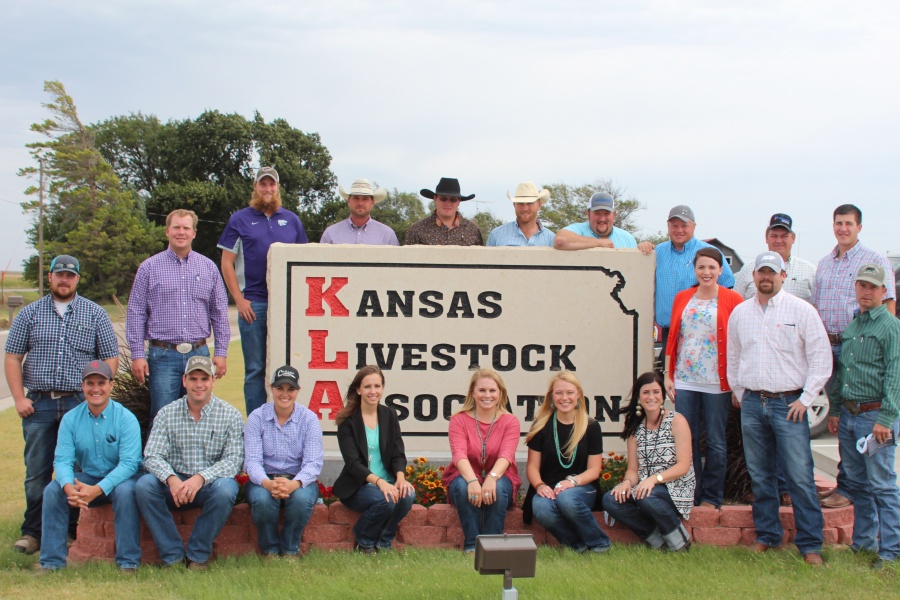 State-By-State
A WR….
Featuring:
Kansas Livestock Association
By Kacy Atkinson
The Rundown
Kansas Livestock Association
Founded in 1894
5,300 total membership
Focus-government relations, troubleshooting (producer issues) and communications
Matt Teagarden, Chief Executive Officer
www.kla.org
Interview with Matt Teagarden
WR What's the best lesson you've learned during your time with KLA?
MT The value of trust. And it's trust on two levels. First, we are so lucky to have the trust of our volunteer leaders and board that allows our staff the opportunity to operate freely, because they know we will always work within the confines of policy our members establish. It allows us to do our day-to-day jobs, executing in the best way we know how. Secondly, the trust between our professional staff is also important. Each member of our team is trusted to carry out their work on behalf of the whole organization but knowing that you have support behind you allows us to flourish. I feel like trust is essential to building and maintaining a successful organization.
WR How did KLA get started?
MT KLA began really for two reasons: struggles with rustling and freight rates on the railroad. Interestingly enough, we still deal with theft issues, and an issue in the state legislature last year regarding flexibility with truck weights in hauling cattle was primarily opposed by the railroad. Somethings don't seem to change in 125 years. We've been lucky over the years to incorporate multiple hats under one organization. In the 70's a cattle feeder council was created to give a voice to that segment of the industry, and in 1973 the Kansas Beef Council was also integrated into KLA. While other states have chosen to separate those entities, I think all of us operating under one roof has really been valuable and allowed us to speak with one voice.
WR What's one of KLA's greatest accomplishments?
MT I'm really proud of our wildfire response in 2016 and 2017. Both years have been devastating to ranchers in Kansas, but in working with those who wanted to help, we were able to create a system for donations to those affected by the fires. When we set it up in 2016, we were hoping for $100,000 and ended up receiving $520,000 to give to 63 ranchers. In 2017, we were quicker because we had the system in place and ended up receiving $2.8 million dollars to help 170 ranchers impacted by those fires. Plus there were hay and fencing donations on top of that. Having an organization that was equipped to help those who needed it, plus members in the affected areas that knew who the people were that needed help the most and directing those funds and supplies to where they really needed to go, was a very rewarding experience. It was truly special to be part of a larger effort that helped those who had been impacted most by disaster.
WR What are some unique things happening in Kansas?
MT Every other year we hold a "Pasture to Plate Tour" for chefs and other beef marketers. Participants from all over the country come to Kansas and learn about every segment of our industry. It's a tremendous opportunity to highlight our members, who do an awesome job talking and teaching about the safe, wholesome, quality eating experience beef has to offer and we all work towards. Another program we offer is the Young Stockmen's Academy, focused on KLA members in their 20's. We focus on leadership development, offer them an industry tour, take them to Topeka to learn about government relations, expose them to our allied industry and finish off with Master's of Beef Advocacy training. We are on our 13th class, and it's been very beneficial not only for our young people, but to connect KLA to young producers and get them started in our organization.
WR What would you say to someone thinking about joining KLA?
MT We can offer access to professional expertise that the average rancher doesn't have on their own. This includes 3 lobbyists who work in Topeka on their behalf to make sure we don't have any surprises coming for our industry in Kansas, and 2 attorneys who are happy to offer legal advice whenever it's needed. I also think it's important when you're part of an industry, to support that industry as a whole. You can do that through your membership, which gives you the opportunity to be involved in creating the policy that drives our work on your behalf now and in the future.
WR encourages producers to have a voice by being active and involved in an association that aligns with your needs and ideals.
Chefs' Tour:
Every other year, the Kansas Beef Council hosts chefs from across the U.S. on a tour of the Kansas beef industry. These chefs get the opportunity to see firsthand how beef is produced by interacting with ranchers while touring cow-calf operations, feedyards and a packing plant.
YSA:
The KLA Young Stockmen's Academy, targeted for ranchers in their 20s, is designed to develop young members of KLA through industry exposure, education and association communication. The program consists of four seminars designed to expose participants to leaders from all segments of the industry, from ranch to rail to retail. Each seminar provides the opportunity to further explore the various segments, gain essential information and network with fellow KLA members. This is the 13th year for the program, which is sponsored by Merck Animal Health.
Field Day:
KLA provides various educational opportunities throughout the year for its members, including ranch management field days in which they partner with Kansas State University. Three field days are held across the state each August focusing on topics such as water conservation, pasture management, cattle health, etc.
Wildfire:
During the wildfires that swept through parts of Kansas in 2016 and 2017, ranchers lost hundreds of thousands of acres of grassland and hundreds of miles of fence. In an effort to help with the rebuilding effort, KLA set up a system through its charitable arm, the Kansas Livestock Foundation, to collect donations, which totaled more than $3 million over the two years. c